Gatwick Airport sees profits and passenger traffic rise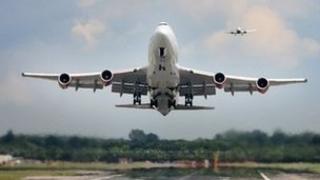 Profits and passengers numbers are up at the UK's second-largest airport, Gatwick.
Pre-tax profits in the six months to 30 September were £127.3m, up from £107.2m in the same period last year.
The number of passengers using Gatwick rose 4.4% to 20.8 million.
The figures were boosted by continued strong growth from budget European airline Easyjet, although Gatwick has also seen the start of several new international services.
Stewart Wingate, Gatwick's chief executive, renewed calls for a new runway to be sited at the airport, arguing that the figures confirmed the increasing popularity of the facility.
The government has commissioned a report into airport capacity in south-east England. Several business groups and airlines have called for expansion at Heathrow airport.
But Mr Wingate told the BBC that building a new runway at Gatwick would be substantially cheaper than expanding at Heathrow.
Gatwick was owned by the former BAA until private equity fund consortium Global Infrastructure Partners took over in December 2009.
Mr Wingate said: "Gatwick will celebrate four years of new ownership in December. In this time we have turned around decades of under-investment to enable Gatwick to emerge as a competitive, world-class airport.
"A new runway here would deliver the routes that passengers actually want at a better price, more quickly and with significantly less environmental impact. The UK's next runway has got to be at Gatwick."