WTO chief warns global trade deal faces collapse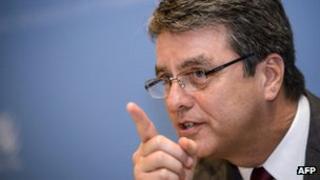 The World Trade Organization (WTO) head, Roberto Azevedo, has warned global trade deal talks face collapse.
Mr Azevedo's comments came after WTO members failed to agree on a text to be presented to trade ministers next month to reach a deal.
A potential global deal, first since the WTO was formed, could add nearly $1tn (£617bn) to the world economy.
Mr Azevedo said that negotiations had been hurt as members "stopped making the tough political calls".
"This prevented us from getting to the finish line," the director-general added.
'Grave consequences'
Diplomats from the WTO's 159 member countries had held talks over the past few days in Geneva over a range of issues.
Among them were new rules that would streamline customs procedures and speed up global trade.
Another key area of discussion was agriculture and the sustainability of food security programmes, such as the one being run by the Indian government.
Some reports indicated that India had taken a hard stand on the issue in an attempt to win greater concessions.
The trade ministers of the member countries are scheduled to meet in Bali, Indonesia early next month.
Mr Azevedo said that it would not be feasible for them to hold any negotiations on the text of a global agreement and that an absence of the same meant a deal was unlikely to be reached.
However, he warned that a "failure in Bali will have grave consequences for the multilateral trading system. Most of you know this.
"We will fail not only the WTO and multilateralism. We will also fail our constituencies at large, the business community and, above all, the most vulnerable among us.
"We will fail the poor worldwide. Not a single human being living in poverty anywhere in the world will be better off if we fail in Bali," he added.