Blackberry shakes up senior management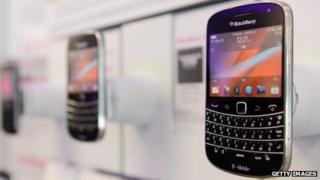 Struggling smartphone maker Blackberry has shaken up its top management as part of its continuing reorganisation.
The firm's chief financial officer, Brian Bidulka, will be replaced by James Yersh who has previously served as controller and head of compliance.
The chief marketing officer and chief operating officer will leave the firm with no replacements announced.
This comes just weeks after the firm appointed a new interim chief executive as it shelved a plan to sell itself.
Blackberry named John Chen as the interim chief executive officer as it announced it had abandoned a planned sale to its biggest shareholder, Fairfax Financial Holdings.
The management changes are the first major move made by Mr Chen.
'Working more closely'
Blackberry once dominated the smartphone market, but has seen its fortunes dwindle in recent years,
It has been hurt by the success and popularity of smartphones launched by rivals such as Apple and Samsung. Its attempts to boost its market share have not yielded the desired results.
In September, it reported a net loss of $965m (£597m) for the second quarter, blaming poor sales of its new smartphone, the Z10.
The firm has also announced a plan to cut 4,500 jobs, or 40% of its workforce, to reverse the giant losses.
Mr Chen said the management changes were aimed at refining the company's strategy "to ensure we deliver the best devices, mobile security and device management".
"I look forward to working more directly with the talented teams of engineers, and the sales and marketing teams around the world to facilitate the BlackBerry turnaround and to drive innovation," he added.