Former Bank of England governor Lord Kingsdown dies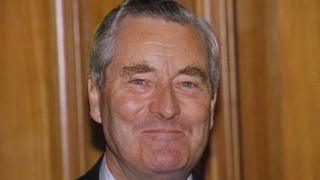 The Bank of England has announced the death of its former governor, Robin Leigh-Pemberton, who was ennobled in 1993 as Lord Kingsdown.
The Bank said it mourned the passing on Sunday night of the man who was at its helm from 1983 to 1993.
Bank governor Mark Carney said Lord Kingsdown, who was 86, had "made a substantial contribution to economic policy".
And he offered "sincere sympathies to Lord Kingsdown's wife and family".
Before his Bank role, Lord Kingsdown had been chairman of National Westminster Bank and of several industrial companies.
A landowner and farmer in Kent, he played a major role in the county, having been for a while chairman of Kent County Council and later, for many years, the Lord Lieutenant.