Will Osborne's energy bill 'giveaway' be all it seems?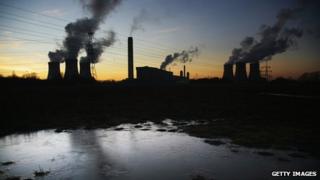 When the chancellor stands up in the House of Commons on Thursday, 5 December, he is expected to announce details of what he is likely to call a cut in energy bills.
This is the result of what the prime minister originally described as the "rolling back" of green levies, although he was later accused of using a rather more vernacular phrase to officials in No 10.
But how big, and how genuine, is that reduction likely to be?
If the levies are taken off energy bills and transferred to general taxation, most people would end up paying the same amount, but by a different method.
But one strong possibility is that the chancellor could decide to shift the burden onto the power generation side of the business.
Figures just published by the regulator, Ofgem, show that profit margins in the generation industry were no less than 20% in 2012.
As things stand, the environmental and social levies on our energy bills amount to an average of £112 per household per year, according to the Department for Energy and Climate Change (DECC).
That amounts to just over 8% of the average annual dual fuel bill of £1,340.
But some of the green levies are enshrined in legislation, so cannot be easily shifted into general taxation.
As a result, the chancellor is looking most closely at the Energy Companies Obligation (ECO), and the Warm Home Discount (WHD).
The Renewables Obligation (RO) is likely to remain untouched.
Under ECO, the large energy companies are obliged to provide insulation or other energy-saving measures to 400,000 homes a year.
The Warm Home Discount provides an energy bill rebate to some of the poorest households.
Taken together, these two measures cost each household an average of just under £60 per year.
Price rise
One big supplier, Npower, has already evaluated the savings. It has said it will reduce its original price rise of 10.4% to 6%, if the costs of ECO and the Warm Home Discount are removed from bills.
Its figures therefore suggest a reduction of £57 on average annual dual fuel bills.
In other words, customers are already counting on a cut of around £60 per year.
For that reason, some in the industry have suggested that, to make any kind of impact politically, the cut may need to be more substantial.
But in any case, how effective would such an apparent giveaway actually be?
Of course any price rebate announced by the government will still mean prices rising. It is just that the rise will be smaller than it otherwise would have been.
Thus the average dual fuel Npower customer will still face a rise of £81 in their annual bill, if ECO and WHD alone are moved into general taxation or shifted to the power generators.
'Free-riding'
However, if George Osborne is to announce a rebate for all energy customers, officials in the Treasury will have to overcome an intriguing problem.
At the moment, only seven energy suppliers currently charge their customers for ECO and the Warm Homes Discount. This includes the "big six" and First Utility.
Each of those companies has more than 250,000 customer accounts, which is the current threshold for qualification.
Two smaller energy companies, Co-op and Ovo, are expected to surpass that number some time next year.
As a result of that threshold, smaller energy companies have not had to pay for ECO or WHD. As a result they have enjoyed a significant price advantage over their larger rivals, charging around £100 a year less.
Until now this has been resented by some of the larger suppliers.
One senior executive in the industry accused his smaller rivals of "free-riding" by not having to pay for social obligations.
However, if the "big seven" are excused the levies, and are able to cut bills accordingly, the smaller companies would cease to have such a large price advantage over them.
In other words, there would be little incentive for customers to move to small suppliers, which would run counter to the government's policy of encouraging new companies into the market.
The Treasury will therefore need to come up with a mechanism that will protect smaller companies, while reducing bills across the board.
'Clunky'
There is also a worry in the industry about the future of the insulation and energy efficiency programmes that are currently paid for by ECO.
So far this programme has proved far more efficient than the Green Deal in establishing energy improvements to people's homes.
Indeed in the long run, the government hopes the programme will have a significant, and permanent impact on cutting energy bills.
So any threat to its continuation could actually increase average bills.
The industry hates having to deliver ECO improvements, and admits that it is not very efficient at carrying out the work.
"It is a clunky scheme to deliver," said one industry insider.
But dropping the scheme altogether is not an option for Mr Osborne.
And whatever his rebate on 5 December, Labour is still promising householders a saving of £120, by freezing price increases for 20 months, should it win the next election.
But given that the government believes that energy bills will rise by 18% above the rate of inflation by 2030, customers may well feel sceptical about the long-term benefits of any rebates, or freezes, on offer.