How damaged is Co-op Bank by Flowers furore?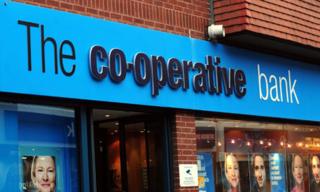 It is some kind of chapter end, in the soap opera that is the story of Co-op Bank's near ruin and its stewardship by the Reverend Paul Flowers, that he has been arrested this morning in Merseyside, in connection with a "drugs supply investigation".
Now I hope this isn't an "Otherwise how was the play, Mrs Lincoln?" moment, but I have been interested in the impact on the bank of all the publicity relating to the conduct of Flowers, chairman of Co-op Bank until June, and the light shone on the incompetent management of the bank.
Also damaging to confidence in the bank has been the disclosure that there will be three forensic probes of it, in addition to the one being carried out by MPs.
Well, I am told that Co-op Bank has been losing in the intense war for current-account customers. Which is hardly a surprise, although I am assured the departures are not sufficient to reduce in any serious or damaging way the bank's holding of cash or liquidity.
What this shows is that the Co-op brand has taken a bit of a battering (good grief, really?).
That said, what will be seen as good news is that rescue of Co-op Bank remains on course.
The hedge funds, led by Silver Point, Aurelius, Monarch, Caspian, Canyon and Beach Point, so vital to the rescue are - in the words of a source close to them - "locked up".
This person says: "The deal is the deal. There will be no renegotiation, no re-trade."
Which doesn't mean that the rescue is in the bag, that Co-op Bank will definitely avoid being taken over by the Bank of England in a process called resolution (which would protect depositors and the bank's essential operations).
It means the investment institutions that control £942m of so called lower-tier-2 bonds will vote yes.
But also required is the approval, in three separate votes, of holders of circa £350m of upper-tier-2 capital. For the deal to go through, two thirds of them have to vote, and three-quarters of voters must say yes.
That won't be easy to achieve, because these investors include 18,000 retail investors, and - experience shows - getting them to vote at all is a logistical challenge.
But one fillip to getting the votes out (as it were) of the Flowers debacle is, presumably, that few people in the UK right now can have failed to notice that the future of Co-op Bank is at a critical juncture.
And then there is the most astonishing effect of the Flowers furore, which is how the respective reputations and "brand value" of the Co-op and hedge funds have been moving in opposite directions.
The Co-op accepts that it now needs to do a lot of work to prove that co-operative values can again be made consistent with management competence. There is no point keeping your money in a bank that says it does good, if it's going to lurch from crisis to crisis.
And, if nothing else, hedge funds are regarded, in a commercial sense, as ruthlessly competent.
So arguably Co-op customers should thank their lucky stars that if the rescue goes through, Co-op Group's stake in the bank will fall to 30%, with hedge funds and conventional investors controlling 70%.
In the negotiations with the hedge funds, Co-op Group made a huge thing of imposing all sorts of restrictions on how Co-op Bank could behave in future if it wanted to continue to use the Co-op brand in its moniker and marketing.
The hedge funds agreed, although they now laugh rather wryly about the moralistic way Co-op Group lectured them about the enormous value of the Co-op brand. It is certainly not impossible that they might end up feeling that Co-op Group would prosper better under a new and different name.
Here is what they regard as Co-op Group's moment of hubris in the rescue talks.
It was at a delicate phase, and the Co-op side of the negotiating table turned to the hedge funds and said: "You have no idea the taint attached to our bank by association with you and your kind."
Hmmm. Right now Co-op Bank would presumably kill to have the commercial reputation of a hedge fund.
Laugh? I imagine many fans of mutuals and co-operatives are crying.