Paul Flowers forced out of Co-op over lavish expenses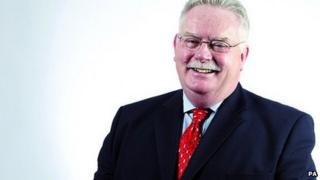 I have learned more about the circumstances of Paul Flowers' resignation from the boards of Co-op Bank and Co-op Group in June this year.
The chairman of Co-op Group at the time, Len Wardle, had become concerned about what was described to me as Mr Flowers' "excessive use of expenses".
A dossier of his lavish expenses claims was compiled and shown to members of Co-op Group's board.
They agreed he should leave.
Confidence lost
There were then private meetings between Mr Flowers and the Co-op Group's secretary, and between Mr Flowers and Mr Wardle.
Mr Flowers was told in these meetings that he had lost the confidence of the board.
He agreed to resign as chairman of Co-op Bank and as deputy chairman of Co-op Group.
I also understand that in these meetings, Mr Wardle discussed with Mr Flowers how he had been seen by fellow directors in the lobby of the Renaissance Hotel in Manchester, a hotel used by Co-op Group, behaving in ways they regarded as inappropriate.
Payments terminated
What some may regard as extraordinary is that, even though he resigned, Mr Flowers was still entitled to be paid until 2015 because of the democratic structure of Co-op Group, which meant he was elected to a Co-op office until then.
So since June he has received tens of thousands of pounds from Co-op Group.
Co-op Group has now terminated all payments to Mr Flowers, because its directors believe his conduct has brought the group into disrepute.
And a source told me Co-op Group may now sue Mr Flowers for the repayment of what he has been paid since June.
Mr Wardle quit as chairman of Co-op Group earlier this week because of his regret at having been involved in appointing Mr Flowers as chairman of Co-op Bank in 2010.
Update 22:40
Two things.
First is that, on the orders of Co-op Group chief executive Euan Sutherland, Co-op has trawled through the emails of Paul Flowers.
It is planning to hand a bunch of these to the police, to help them in their enquiries into alleged illegal possession of recreational drugs.
Second, the dossier on lavish expense claims was used to remove Flowers from his role at Co-op Group.
But, I am told, his removal from the chairmanship and board of Co-op Bank was a bit different.
There he was asked to resign, by Sutherland, because he was not seen to be competent.