UK economy will take years to recover says BoE's Dale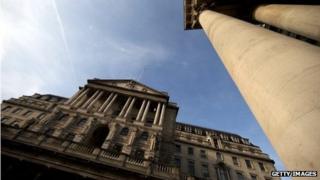 The UK's economic recovery will take a "number of years", the Bank of England's chief economist Spencer Dale has said.
"We had a very deep recession, we have a number of years to go," Mr Dale told the BBC.
He also said that interest rates would remain low for what he termed a "sustained period".
But he thought the economy was moving in the right direction and did not foresee a housing market bubble.
He said: "We know that the housing market can quickly go from normal levels to overheating," but that the UK is "not there now".
Spencer Dale sits on the Bank's Monetary Policy Committee (MPC), which sets interest rates.
On Wednesday, minutes from the MPC's November meeting showed the nine members all voted to leave interest rates at their current 0.5%.
The Bank's plans for future interest rate rises have been closely watched since August when the governor, Mark Carney, said that he would not consider a rate rise until unemployment fell to 7%.
However, unemployment, the Bank said on Wednesday, has fallen faster than predicted, and the 7% level is not to be regarded as an automatic trigger for a rate hike.
Though Mr Dale warned that the recovery is not in its final stages, he stressed that things are improving.
This echoes comments from Wednesday's MPC minutes that the UK, in the Bank's view, is in a "sustained recovery" and does not face major inflation risks.