Janet Yellen one step closer to Federal Reserve top job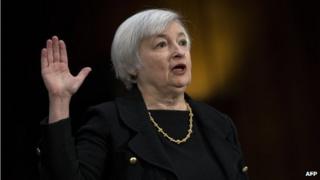 Janet Yellen is closer to becoming the next head of the US Federal Reserve after her nomination was approved by a US Senate banking committee.
Ms Yellen, 67, is currently the Fed's deputy chair and will replace incumbent Ben Bernanke in January, becoming the first woman ever to hold the post.
US president Barack Obama nominated her for the role in October.
Her nomination was expected after former Treasury Secretary Larry Summers withdrew his candidacy in September.
Her appointment is now likely to be approved by the full Senate, which is Democrat-controlled.
Mr Bernanke has held the top job for eight years, while Ms Yellen has been his deputy for two.
She is considered by some Republicans as a "dove" on economic policy, meaning someone who believes fiscal stimulus measures and government spending are acceptable ways to boost economic growth and create jobs, even at the expense of rising inflation.
If she lives up to that characterisation, her policies are unlikely to be much different from those of her predecessor.
She has taught at Harvard University, the London School of Economics, and the University of California, Berkeley.