Gift Aid risks highlighted in Audit Office report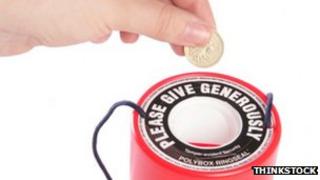 Gift Aid is a valuable source of funding for charities, but £170m worth of tax was lost in a year owing to abuse of the system, a report has said.
Gift Aid is worth £1bn, or 2% of UK charities' income, a year, according to the National Audit Office (NAO).
However, the NAO said the system was at risk from criminals who falsified donations and set up bogus charities.
HM Revenue and Customs said its "crude" estimate was that £170m was lost through avoidance, fraud and error.
The tax authority has been putting more focus on finding fraudulent claims since 2009, the report said.
Before then, a greater emphasis was put on processing Gift Aid claims quickly so that charities got their money swiftly.
'Modernising'
It estimated that its work prevented the loss of £63m of tax at risk from the abuse of reliefs on donations in 2012-13, representing a four-fold increase since 2009-10.
A government spokesman said: "The government is committed to encouraging charitable giving and since 2010 has made wide-ranging and generous reforms to the tax support available.
"This is a longstanding relief and we want to make sure it keeps pace with changes in the way people donate. We have recently consulted with the sector on modernising Gift Aid and we work closely with charities to make it as easy as possible for them to claim tax relief.
"However, it is important too that appropriate controls are in place."