Help to Buy: Thousands use scheme to buy new homes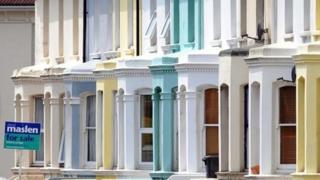 Some 5,375 new homes were bought in six months in England using the initial phase of the government's flagship Help to Buy scheme, figures show.
Of these, 92% were sold to first-time buyers, the Department for Communities and Local Government (DCLG) said.
Help to Buy was launched in April, initially helping those buying newly-built homes with a shared equity loan.
The average price of a property bought under the scheme was £194,167, with an average equity loan of £38,703.
The highest number of Help to Buy sales were in Leeds, Wiltshire, Milton Keynes and Reading, the DCLG said.
The figures cover the six months to the end of September. Since then, the government has begun the second phase of the scheme which is not restricted to new-builds and is UK-wide.
Under this second phase, up to 15% of the value of the home loan can be guaranteed by the Treasury. Critics have argued this could create a housing bubble.
Bricks and mortar
Many house builders have said that their business has been boosted by Help to Buy. A week ago, Taylor Wimpey said it had sold all the homes it was building this year.
The DCLG figures show that, in the first seven months of Help to Buy, 18,050 reservations were made for homes being built.
"Today's figures show we are building at the fastest rate since the crash in 2008, more people are securing a place on the housing ladder, and we are delivering tens of thousands of affordable homes across the whole country," said Housing Minister Kris Hopkins.
"But there's still more to do, and improving the housing market will remain a top priority. That means getting builders back on site, delivering new housing, more jobs and ensuring every hard working family has a place they can call home."
However, the number of new homes completed has been at extremely low levels in recent years. Last year was the lowest number since the 1940s.
Shadow chancellor, Ed Balls, in a speech to house builders, said Labour supported the first phase of Help to Buy, but had misgivings about the second phase. He said there was a danger in focussing on encouraging buyers.
"The fundamental flaw in the chancellor's current plan is to rely on securing lasting recovery by boosting housing demand, while failing to take any action to boost housing supply," he said.
"If Help to Buy merely boosts demand for housing without being matched by action to increase housing supply, then house prices will rise and rise."
Second movers
New homes still represent a fraction of house sales across the UK, which have topped one million in 2013 - the first time the total has reached six figures since 2007.
A report published by the Council of Mortgage Lenders (CML) said that the start of a housing market recovery had been prompted by greater mortgage availability, reinforced by government intervention in the market.
RBS and Lloyds Banking Group are already offering deals through the second phase of Help to Buy. On Thursday, HSBC announced it would join them with new deals on the table for buyers offering a 5% deposit from Monday. Earlier in the week, Yorkshire Building Society launched some products for those offering a 5% deposit, but outside of the Help to Buy umbrella.
Home loans are currently relatively cheap in a historical context. Consequently, there has been a pick-up in first-time buyers and buy-to-let investors in the market compared with the very low levels seen during the financial crisis and credit crunch.
However, the CML said there had been "negligible" signs of buying by those moving on to a second, larger home.
This was the result of the erosion of equity in their properties as house prices fell during the downturn years of 2008 and 2009, and the fact that their incomes were failing to keep pace with inflation.