Eurozone ministers are 'losing patience' with Greece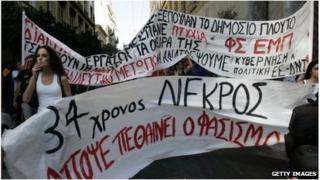 Eurozone finance ministers are losing patience with Greece, said the head of the Eurogroup, Jeroen Dijsselbloem, as the country submitted its 2014 budget.
Greece will exit its six-year long recession next year with 0.6% growth, the budget said.
The debt-laden country has received international bailouts since May 2010.
At The Hague, Mr Dijsselbloem told a Greek newspaper, the Ta Nea daily, that "many finance ministers of the eurozone are starting to lose patience".
Greece's deputy finance minister, Christos Staikouras, said the country's economy would shrink by 4% this year, below the 4.5% predicted.
He said: "For the first time, the major sacrifices made by the Greek people are paying off, with the first signs of recovery this year.
"The conditions are being created for Greece's return to international markets within 2014.''
Debate
The draft budget, submitted to parliament by Greece's finance minister Yannis Stournaras, is due to be voted on in early December.
Greece sought bailouts after confidence in its ability to repay its vast debts evaporated, leaving it unable to find sufficient investors willing to lend it money via the bond markets.
In return for the rescue package, Greece had to restructure its finances, cut public sector pensions and pay, and impose new taxes.
The Eurogroup is made up of the finance ministers from the 17 nations that use the single European currency.
The necessary measures Greece needs to take to meet its bailout requirements in 2014 have been debated in Athens by the so-called troika, made up of the International Monetary Fund, European Central Bank and European Commission.
The troika has reportedly been at loggerheads with Greece's government over home repossessions, among other issues.
In a joint statement, the troika said: "Good progress has been made, but a few issues remain outstanding."
They are due to return to Greece in December.