Mothercare hails signs of recovery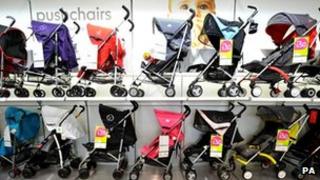 Mothercare has reported an underlying half-year profit, with losses in the UK narrowing and its international business continuing to grow.
The mother and baby products retailer posted an underlying profit of £2m for the 28 weeks to 12 October, compared with a £1.8m loss a year earlier.
However, after allowing for one-off restructuring costs, the company reported a loss of £11m.
Mothercare has been shutting loss-making stores in the UK.
It currently has 237 UK stores, compared with more than 300 before it started its restructuring programme.
UK like-for-like sales were down 1.4% in the half-year, although this is an improvement from the 3.4% drop seen a year earlier.
Like-for-like sales at its international business rose by 4.8%, with total sales up 13% to £399.3m.
"The benefits of the changes we are making to the business are clear, with a return to underlying profit," said chief executive Simon Calver.
"Our international business continues to deliver double-digit growth and the opportunities in these markets remain."
Mr Calver said online sales in the UK were growing, but consumer spending was likely to remain muted in the second half of the year.
'Challenges ahead'
Greg Bromley, consultant at Conlumino, said the improvement of the UK performance was "imperative" to the long-term success of the business, so the recent results would be "somewhat of a relief".
However, he added that Mothercare was under threat from more "premium players" such as Mamas and Papas and John Lewis, which continued to "erode" its sales.
Mr Bromley added: "The UK market isn't going to get any less competitive, so the retailer will have to continue making progress, and ensure it is sufficiently prepared to face the challenges ahead."
Keith Bowman, equity analyst at Hargreaves Lansdown Stockbrokers, said the retailer was showing progress after targeting sales in emerging market economies.
He said: "Store space in Latin America has grown by nearly 50% year-over-year, whilst China's recent proposal to abolish its one child legislation should help assist the group's presence there long term."