Eurozone business activity slows as recovery falters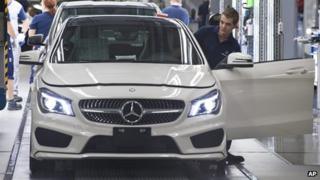 Eurozone business activity slowed in November, a closely watched survey suggests, casting doubt on the strength of the region's economic recovery.
The Eurozone Composite Purchasing Managers Index (PMI), compiled by Markit Economics, fell to 51.5 from 51.9 in October.
This is the second successive month the rate of growth has slowed, leading Markit to conclude that "momentum is being lost again".
A score above 50 indicates growth.
The composite index measures business activity in the manufacturing and services sectors combined.
Taken separately, the manufacturing PMI rose to 51.5, from 51.3 in October, while the services PMI fell sharply to 50.9, from 51.9.
A spokesman for Capital Economics said the composite figure "suggests that the region's anaemic recovery may be losing more steam" and that it has "virtually ground to a halt".
Patchy
Business activity varied markedly country by country, with Germany's composite figure rising to its highest level since January, but France's falling to its lowest level since June.
In another indication that the eurozone recovery is fragile, private sector employment fell for the 23rd consecutive month.
"The fall in the PMI for the second successive month suggest that the ECB [European Central Bank] was correct to cut interest rates to a record low at its last meeting," said Chris Williamson, Markit's chief economist.
The ECB recently lowered its benchmark interest rate to 0.25% in an attempt to give fresh impetus to the region.
The eurozone economy grew by just 0.1% in the July-to-September period, down from 0.3% growth in the previous quarter.
Capital Economics is forecasting eurozone fourth quarter growth of 0.1%.