Co-op Bank to be probed and probed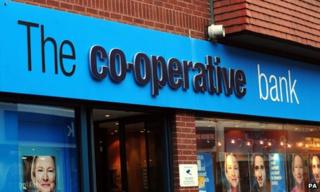 The announcement by the prime minister that there will be an inquiry, into the near collapse of Co-op Bank and the appointment of Paul Flowers as chairman, feels like quite a big moment.
It would be an independent inquiry, arranged by the Prudential Regulation Authority (PRA), and ordered by the Chancellor, under powers George Osborne obtained in the 2012 Financial Services Act.
And of course, as and when it happens, it would involve the participation of the Financial Conduct Authority.
Nor would this be the only probe.
There is the police investigation of Paul Flowers' conduct.
And I also understand that the Financial Conduct Authority is evaluating whether to launch a formal "enforcement" investigation of events at Co-op Bank - to assess whether in the last few years, as it careered down a path to near ruin, it broke the financial rules.
Recovery
None of this is designed to cheer up those working for Co-op Bank or its owner, Co-op Group.
It could be a bit destabilising (ahem) for the current fevered attempts to rescue Co-op Bank.
As you will recall. Co-op Bank is in the last stage of this recovery plan.
It involves holders of £1.3bn of Co-op Banks' bonds and preference shares putting around £1bn of new loss-absorbing equity capital into the bank, by converting their current investments into ordinary shares and new bonds.
Perhaps most importantly in all of this, it involves a group of hedge funds putting in £125m of extra cash for additional ordinary shares.
Here is the point.
It is very difficult to know what the three probable official probes would uncover about wrongdoing at and by the bank.
There could be fines. There could be abuses that made the bank vulnerable to civil prosecution.
Or to put it another way, the investigation could have a bearing on the value of the bank.
Change clause
So if you are a hedge fund that has agreed to invest £125m in the bank, you may feel a little bit queasy - because the shares you would be buying may not be worth as much as you thought they were worth, before the prime minister announced there would be a formal investigation.
The hedge funds may therefore be thinking that they would like to renegotiate the terms of that £125m investment.
Now my sources tell me that the hedge funds can't do that. I am told the hedge funds have given irrevocable undertakings to do the deal, and that what David Cameron said in the House of Commons would not trigger a material adverse change clause.
So perhaps Co-op Bank will continue to bump along towards its phoenix-like rebirth, which the PRA has said must be completed by 31 December. As I understand it, Co-op Group thinks that is what will happen.
Clouds
The alternative, you will remember, is takeover by the Bank of England, in a process called resolution, which would protect depositors savings, keep the bank's essential functions running smoothly and heap losses on the bond holders.
Whatever happens to the ownership of the bank, it will be under the cloud of investigation for many months.
That independent investigation that the chancellor will order would be very lengthy. And, under the law, it cannot start until the police and FCA enforcement probes decide whether the law and City rules have been breached.
PS: Here is an interesting dilemma for Co-op Bank and City regulators.
On the Co-op Bank board as a non-executive director is a former executive of Royal Bank of Scotland and Abbey National called Graeme Hardie.
He is that rare thing therefore on that board: a proper banker.
Now Hardie was appointed to the board in February 2013, when Flowers was still chairman of the board.
But Hardie has a bit of history with Mr Flowers and with Co-op Bank - because he was an advisor to the Financial Services Authority, the now defunct regulator, and he was involved in interviewing Flowers in 2010, when the Co-op Bank wanted to promote Flowers from non-executive director to chairman.
He was, in the words of sources, involved in the process of the FSA approving the appointment of Mr Flowers.
So knowing what we now know about Mr Flowers, some would say it is a bit odd that Hardie sits on Co-op Bank's board.
I am told, however, that the regulators like him being there, because he knows about banking, even though he was one of those in 2010 who failed to prevent the promotion of Flowers.
UPDATE 16:10
I know a bit more about the hedge funds' material adverse change clause in the Co-op Bank rescue deal.
Apparently, they can only refuse to put the additional £125m of cash into Co-op Bank if creditors fail to vote for conversion of Co-op Bank's £1.3bn of bonds and prefs into shares and new bonds.
So they don't have a lot of leverage to improve the terms of the deal.
As for scuppering the rescue altogether, that doesn't look altogether rational - because hedge funds' significant investment in Co-op Bank bonds might well be wiped out in those circumstances (though it would not necessarily be wiped out altogether; they might still be able to convert their bonds into shares, I am told).