Bankers questioned on Royal Mail sell-off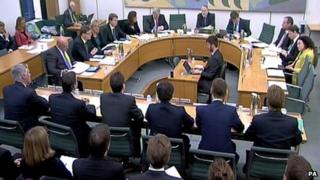 Bankers who arranged the Royal Mail share sale in October have been grilled by MPs on the Business Select Committee, over whether a low share price meant taxpayers lost money.
Managers from Goldman Sachs and UBS, who advised the government, said market uncertainty and the complexity of the deal led them to a conservative price.
But MP Brian Binley accused the bankers of doing a bad job and running an exclusive "cult of the high priest".
The new shares rocketed once issued.
They were priced at 330p but went to 550p in the first week of trading - rising to over 650p at one point.
It was revealed at the parliamentary hearing that the banks were paid £13m for their work on the Royal Mail privatisation.
'Not frothy'
Richard Cormack, a managing director at Goldman Sachs, said he believed the flotation of Royal Mail was a "well-executed transaction".
"Based on all the analysis we did at the time, the £3.30 price that we priced the transaction, was the clearing price we could achieve for the amount of shares that we were selling," he told the panel.
Meanwhile, James Robertson, a managing director at UBS, said that in the days before the sale they advised the government they could increase the share price by 20p.
But he said that might not be a good idea as on balance there were significant risks associated with raising the price.
These included uncertain market conditions because of the possibility of a US default and a strike at Royal Mail.
The panel also heard from Gert Zonneveld, co-head of research at Panmure Gordon. He had warned the share price was too low, but had been called an "outlier" by Business Secretary Vince Cable.
"These shares have been trading on the market for nearly six weeks, several hundred million shares have traded hands," he told MPs on Wednesday.
"Today's value of the company is the value that the market attributes to it... this is not a frothy value."
Goldman Sachs, Barclays, Bank of America Merrill Lynch and UBS were appointed to lead the Royal Mail sale.
Royal Mail sold a 60% stake, offering 600 million shares on the London Stock Exchange.