Tie Rack begins UK closing down sale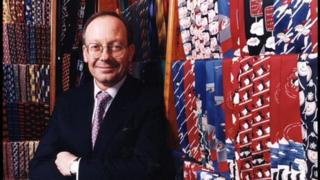 Tie Rack, the loss-making international accessories chain, has begun a nationwide closing down sale across its remaining 44 UK stores.
The chain, which epitomised Eighties entrepreneurialism, grew to 450 stores globally at its height in 1998, but now has just 82.
The UK stores are all expected to close on 27 December with the potential loss of 200 jobs.
Tie Rack was founded in 1981 by South African entrepreneur Roy Bishko.
"Management are working with staff to provide support during this difficult time," a company spokesman said.
The company grew rapidly, flourishing in airports, train stations and high streets across the world.
Its brightly coloured displays became associated with a new breed of niche retailer riding the wave of a resurgent consumer economy.
In 1983, Sophie Mirman, who used to be a Tie Rack director, left to set up Sock Shop along similar lines.
Tie Rack floated on the stock market in 1987 aiming to raise £12.5m, but received applications for more than £1bn worth of shares. The listing was 84 times oversubscribed.
Prime minister Margaret Thatcher's privatisation drive during which many state-owned industries were sold to the general public and the deregulation of the share dealing industry in 1986, known as Big Bang, had whetted the public's appetite for shares in rapidly-growing companies.
Loosened ties
In 1999, Frangi Designs, an Italian tie and scarf designer, bought 70% of the company; Mr Bishko retained 27% of the shares and the remaining 3% was split between the other directors.
Tie Rack's relatively brief flirtation with the world of stocks and shares had come to an end.
In 2007, the company was sold to the Fingen Group, an Italian conglomerate, and two years later Mr Bishko sold his remaining stake to the group, ending his association with the company he founded.
Neck ties fell out of fashion with the more casually dressed Twitter generation and Tie Rack succumbed to the twin threats of global recession and online shopping.
Accounts for the year to January 2012 showed a pre-tax loss of £6.8m on a turnover of £68m.
"Following this prolonged period of decline in Tie Rack's fortunes, it is with regret that we today announce this closing down sale in the UK," the company spokesman said.
Neil Saunders, of retail analyst Conlumino, told the BBC: "Tie Rack is simply a victim of changing circumstances. You just don't need a standalone tie shop any more, as fewer people are wearing ties and there are plenty of other outlets where people can buy shirts and ties."
Tie Rack's demise follows that of other high-street retail brands, such as Comet, Blockbuster, and most recently, Barratts Shoes.