Workers protest against construction blacklists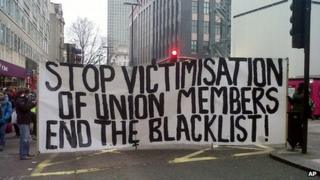 Protests have been taking place outside the offices of UK construction firms over alleged blacklisting of workers.
Ucatt, a construction union, is also separately starting legal proceedings against 10 firms suspected of involvement with a "secret" blacklist.
The list, with the names of 3,214 workers and environmentalists on it, was discovered by the Information Commissioner in 2009.
Ucatt says the list "ruined workers' lives" and it will "ensure justice".
The Information Commissioner's Office (ICO) has now said it will write to 1,200 of the individuals who were included on the blacklist of construction workers.
The move steps up the process of trying to find those on the list. According to the ICO, so far only 467 people have been provided with copies of the information that was held on them.
Maria Ludkin, the GMB union's national officer for legal and corporate affairs, said: "GMB is pleased that, after almost two years of pressure, ICO has bowed to the inevitable."
Compensation scheme
The protests coincided with the Trade Union Congress (TUC) day of action against blacklisting.
Frances O'Grady, general secretary of the TUC, told news agencies: "Companies guilty of blacklisting should be barred from public contracts until they can demonstrate that they understand the basics of human rights and good industrial relations."
Eight of the biggest construction companies - with Balfour Beatty, Carillion and Sir Robert McAlpine among them - have recently unveiled plans for an industry-wide compensation scheme for workers who suffered because their name was on the blacklist.
Construction companies have denied legal liability, but say they would offer to pay up to £100,000 to victims.
But unions have said this does not go far enough and have called for an admission of legal liability and demanded a public inquiry.
Numbers checked
The ICO says that the records of those on the blacklist were often incomplete. It has found details of where people live by sending 1,700 national insurance numbers to the DWP. The DWP has checked the numbers and provided the ICO with up-to-date addresses.
But in 500 cases, the DWP was unable to provide an address either, because an individual was dead or the information provided did not match with their records.
The construction industry blacklist was operated by an organisation called the Consulting Association which operated from offices in Droitwich.
It held information on a range of people, including trade union members and those who had raised health and safety concerns on sites.
The information was held illegally, since it was in breach of data protection legislation which requires people to be made aware if information is held on them and also requires that information to be accurate.