US safety watchdog probes Tesla after car fires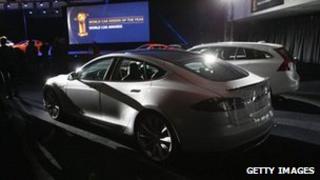 Battery fires in Tesla Model S electric cars have prompted an investigation by the US government's auto safety agency.
Fires broke out in two cars in the US after debris hit the undercarriage, said the National Highway Traffic Safety Administration (NHTSA).
The car warned drivers meaning they escaped unhurt, reports said.
NHTSA's probe will look at more than 13,000 Teslas, which counts the Porsche 911 and BMW M5 among its competitors.
Shares in the California-based company fell by 10% as markets closed on Monday.
Tesla has sold more than 19,000 of the 2013 models worldwide, which are worth between $70,000 and $100,000.
NHTSA said it would "examine the potential risks associated with undercarriage strikes" with the cars.
Although a recall is a possibility. a decision is months away, reports said.
In a blog, Tesla chief executive, Elon Musk, said the company asked the government to investigate, even though its cars catch fire at a far lower rate than gas-powered vehicles.
He posted: "While we think it is highly unlikely, if something is discovered that would result in a material improvement in occupant fire safety, we will immediately apply that change to new cars and offer it as a free retrofit to all existing cars."
Mr Musk added that Tesla had updated the car to give it more ground clearance at highway speeds.