Misleading supermarket offers 'still on shelves'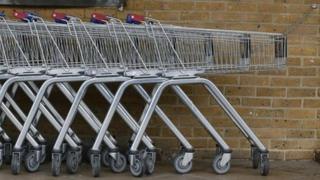 Misleading multibuys and questionable discounts are still on supermarket shelves despite new fairness rules, a consumer group has said.
Some of the multibuys cost more than a set of individual items had been previously, according to Which?.
It also found "discount" offers where the lower price was offered for longer than the original higher price.
The findings come just months after supermarkets signed a set of principles ensuring price promotions were fair.
'Not playing fair'
Supermarkets have faced criticism for misleading prices on special offers.
About 40% of products were on offer at any one time in supermarkets in the UK, a much higher proportion than much of Europe, Which? said.
Concerns were raised by the Office of Fair Trading (OFT) in November about prices being artificially inflated to make later discounts look more attractive.
Eight supermarkets then adopted a set of principles on the fair use of discounts.
However, the Which? analysis of more than 70,000 grocery prices found these rules were being broken in some cases, and the rules were too vague.
Its executive director Richard Lloyd said the findings came at a bad time for consumers, with household budgets being squeezed.
"We've found dodgy discounts across the aisles, and with rising food prices hitting shoppers' budgets hard we think supermarkets are not playing fair," he said.
"The stores have had long enough to sort their act out, so we're saying enough is enough."
A spokeswoman for the Department for Business said it was a criminal offence to mislead consumers on prices, including special offers.
"If consumers believe supermarkets are advertising misleading deals, they should raise their concerns with their local authority Trading Standards officer, who enforces the law," she said.