MF Global ordered to pay $1.2bn in restitution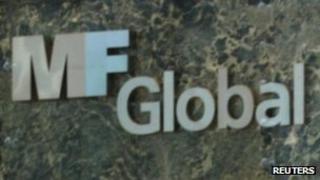 US futures firm MF Global Holding has been ordered to pay $1.2bn (£740m) in restitution to its customers over its collapse.
The US Commodity Futures Trading Commission (CFTC) obtained the order from a federal court, as well as an additional $100m in civil penalties.
About $1.6bn of client money went missing before the firm filed for bankruptcy protection in October 2011.
The CFTC is also still suing the former head of the firm, Jon Corzine.
Mr Corzine, a Wall Street legend at Goldman Sachs and former New Jersey governor, was charged by the CFTC with failing to properly manage the company in June, with the regulator saying at the time that he "did not act in good faith" and did not diligently supervise the collapsed broker.
Mr Corzine has denied the allegations.
'Vigorously prosecuted'
"Division staff have worked tirelessly to ensure that 100% restitution be awarded to satisfy customer losses," said Gretchen Lowe, the acting director of the CFTC's enforcement division.
"The CFTC will continue to ensure that those who violate US commodity laws and regulations designed to protect customer funds will be vigorously prosecuted."
MF Global collapsed two years ago after making a $6.3bn bet on European sovereign debt, and customers were left reeling when it emerged that more than $1bn of their money could not be found.
Much of that money has since been returned but Mr Corzine, who joined the company in March 2010 with a plan to transform the firm from a futures broker into a major investment bank, said at the time that he did not know where the money went.
MF Global's former assistant treasurer, Edith O'Brien, is also still being investigated by the CFTC, the regulator said on Monday.