Dubai Air Show: Boeing leads order books race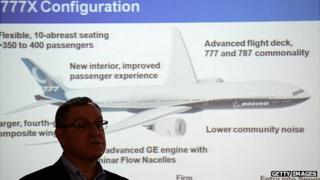 Airlines in the Gulf have placed a number of high-value plane orders on the first day of the Dubai Air Show, with US giant Boeing a major winner.
Dubai-based Emirates airline placed an order for 150 of Boeing's new 777 mini-jumbos, in a $76bn (£47bn) deal.
Other orders from Etihad Airways, Qatar Airways and Lufthansa for some 109 of the new 777, previously codenamed 777X, brought its sales total to $95bn.
Emirates has also ordered 50 Airbus A380s, in a deal worth $23bn.
The airline is already the biggest customer of the A380 and the new deal will bring its total orders for the plane to 140.
And local rival Etihad Airways has also announced a firm order for 87 Airbus aircraft - some 50 A350 XWBs, 36 A320neo aircraft and one A330-200F as part of its fleet modernisation strategy.
The deal - valued at $19bn - includes options for 30 more planes.
'Astounding'
Boeing said its 777 mini-jumbo sales represented "the largest product launch in commercial jetliner history by dollar value".
"The response to the 777X has been astounding," Boeing chairman James McNerney added at the official launch of the new plane in Dubai.
The 777 will come in two models, one seating 350 passengers, and another seating 406 people.
Boeing's new aircraft is designed to compete with the largest version of Airbus's A350 in the mini-jumbo market.
European rival Airbus has launched a campaign for a minimum standard seat width of 18 inches on long trips, as it seeks to draw the focus of airlines to what it says will be the 777's narrower seats.
Meanwhile, Airbus will be looking to sell more of its A380 super-jumbo aircraft, the world's biggest passenger aircraft, which is facing a potential cut in production unless some more orders are secured.
UK Prime Minister David Cameron has visited the airshow site, with the UK competing with France for a potential 60-plane fighter jet deal with the United Arab Emirates.
Mr Cameron welcomed the Airbus orders from Emirates and Eithad Airways, as well as the news that Rolls-Royce had won a $5bn order from Etihad Airways to supply Trent XWB engines for the 50 Airbus A350s.
"This is a great day for the British aerospace industry," he said. Earlier, Airbus had said the order from Emirates would protect 2,500 jobs at its UK bases in Flintshire and Bristol.