Households less optimistic on finances, says Markit survey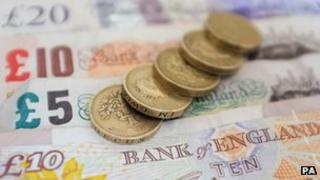 New figures suggest that householders are feeling less optimistic about their finances than at any time since April.
The Markit Household Finance Index (HFI) showed a particularly sharp decline between October and November.
The index, which measures perceptions of financial well-being, fell from 41 to 38.8 over the month.
That figure, which is the lowest since April, suggests that any improvement in the UK economy is not yet filtering down to consumers.
The Markit report blamed recent rises in energy prices, as well as a lack of improvement in pay.
Last week, the Office for National Statistics (ONS) reported that average wages had increased by just 0.7% over the last year, well below the rate of inflation.
"Weak pay trends and energy price rises appeared to overshadow recent positive news about labour market conditions," said Tim Moore, the author of the report.
The survey showed that 42% of households expected their finances to deteriorate over the next 12 months.
By contrast, only 24% think their finances will improve.
That is the most pessimistic outlook since February 2013.
Jobs
The drop in savings available to householders was the sharpest for seven months, suggesting an even tighter squeeze on budgets and a reluctance to spend.
The report might also make difficult reading for UK retailers, hoping to take more money in the shops over Christmas.
"The latest survey highlights underlying fragilities in UK consumer sentiment and provides a timely reminder that bumper spending levels over the festive season are not yet baked in the cake," said Mr Moore.
However, households were more optimistic about the jobs market.
The report said workplace activity increased for the 10th successive month and "at a solid pace".
Last week, official statistics from the ONS showed that unemployment fell from 7.8% in October to 7.6% in November.
The Bank of England also said that the economic recovery had "taken hold".
People were most optimistic in the IT/telecoms sector, followed by manufacturing and construction.