Consumers warned to be careful on fixed-price energy deals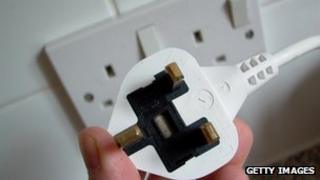 Energy customers are being warned to be careful about which fixed-price deals they sign up to, ahead of expected price cuts in December.
Most suppliers have promised to reduce prices, should the chancellor announce a change to green and social levies.
But the situation is less clear with fixed-price tariffs, some of which lock customers in for several years.
Some companies have promised to reduce those fixed tariffs accordingly, while others have said they will not.
EDF, which has one million customers on fixed deals ending in 2015 and 2017, said it would not be reducing those tariffs.
But it said customers would be free to move to other deals, without penalty.
"If a customer found a better deal elsewhere, they'd be able to move without charge," a spokesman told the BBC.
Future pricing
Nevertheless consumers are being told to be wary of signing up for fixed-price deals until after Chancellor George Osborne's Autumn Statement on 5 December.
The warning comes on the same day that SSE raises its prices for those on its standard tariff by an average of 8.2%.
Kevin Pratt, an energy expert at MoneySuperMarket.com, said customers should make sure they can get out of fixed tariffs without paying charges.
"We think the fixed rates that don't have exit fees are a sound proposition," he said.
But customers "should look very closely at such deals", he warned.
"The price would have to be very persuasive, to counter having to pay an exit fee."
Other suppliers, including Npower, say they will pass on any price cuts to their fixed tariffs, as well as their standard tariffs.
British Gas said it could not comment on future pricing.
However, it promised, in general terms, that if the government changes the environmental or social charges, "the benefits will be passed on to customers".
Savings
In the meantime, one smaller energy company said it was passing on the expected price cuts in its fixed-price deals.
Co-op Energy, which has just 150,000 customers, has launched a fixed-price tariff until 2017.
Earlier this week, the company announced it was reducing a previously announced price rise, in anticipation of a change to green and social levies.
Whereas it originally said it would raise prices by 4.5%, it will now raise them by 2.5%.
The company told the BBC that its 2017 tariff took account of that smaller price rise. It also said that if the anticipated changes did not materialise, it would not cancel the deal.
"Whatever the outcome, we will honour that fixed-price tariff," said a spokesperson.
The green and social levies currently add around £112 to the average dual-fuel energy bill.