Flybe outlines base closures as part of job cuts plan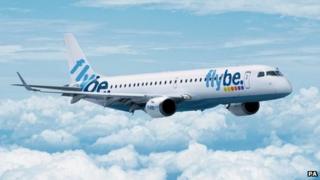 Flybe, the Exeter-based airline, is proposing to close six bases as part of its cost-cutting plan.
Bases at Aberdeen, Guernsey, Inverness, Isle of Man, Jersey and Newcastle are due to close as the airline looks to save £85m over the next few years.
The company also released details of the proposed redundancies it announced on Monday.
Exeter faces the biggest hit, with 116 proposed redundancies, while Belfast City faces 52 job losses.
Flybe said it would be reducing its workforce by 500, despite returning to profit.
Chief executive Saad Hammad, who took over in August, said: "I know that these proposals are creating great personal uncertainty, but they are necessary to secure a long-term future for Flybe and I am grateful to the various union and staff representatives for the very constructive manner in which we have been able to commence the consultation process."
Jim McAuslan, general secretary of pilots' union Balpa, said: "Flybe needs to get back on the right track, but it is extremely disappointing that redundancies will be needed to do that.
"Pilots and their families will be suffering as they await further news. But so will the communities and islands served by Flybe."
Soaring share price
This week, the company reported pre-tax profits of £13.8m for the six months to 30 September, compared with a loss of £1.6m a year earlier.
Flybe cut 490 jobs in 2012-13, with a further 100 going in the first half of 2013-14. It now employs 2,700 people.
Investors welcomed Flybe's decision to carry out additional cost cuts, sending its shares up by 40.5% to 95.75p on Monday.
Then on Wednesday, Flybe's biggest shareholder, Rosedale Aviation Holdings, sold its entire 48.1% stake in the airline to institutional investors, including Schroders, Artemis and Standard Life.
Existing shareholders, such as George Soros and Polar Capital, increased their stakes.
Flybe's share price has risen nearly 83% over the last 52-week period.