Bonmarche fashion chain prices shares at 200p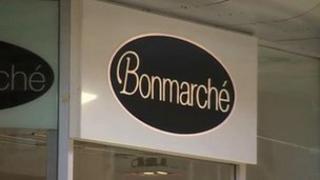 Women's fashion chain Bonmarche, which sells to the over-50s age group, has priced its shares at 200p ahead of its debut on the stock exchange.
The company, which is floating its shares on the AIM market, said it would raise £40m from the sale.
Official trading is expected to begin on 20 November.
Chief executive Beth Butterwick said she was "delighted" that Bonmarche's flotation had been "successfully received".
"We would like to welcome our new shareholders and are looking forward to the next stage in the development of the business as a publicly quoted company," she added.
Bonmarche was previously owned by fashion chain Peacocks, but was bought in 2012 by investors Sun European Partners when Peacocks went into administration.
The retailer, which has 264 stores, also sells online and through a TV channel.
When Bonmarche announced its intention to float, the company cited figures from the Office for National Statistics and retail specialists Verdict, predicting that the number of women over the age of 55 - its target market - would be 16% higher in 2018 than in 2008.