Nationwide reports big rise in profits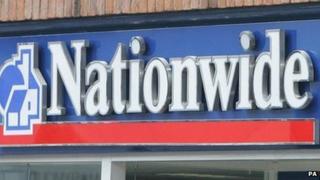 Nationwide Building Society, the UK's largest mutual lender, has reported a big rise in profits for the six months to the end of September.
Pre-tax profits rose to £270m for the period, up from £103m a year earlier.
Gross mortgage lending rose 37% to £14bn, with its share of new mortgage lending rising to 15.4%,
Graham Beale, Nationwide's chief executive, said "strong business volumes" had driven "an excellent financial performance".
'Tangible progress'
Nationwide opened more than 214,000 new current accounts and saw 54,000 customers switch to the group during the period.
Retail savings balances rose by £5.4bn to give the mutual a 27.5% market share.
But given the falling interest rates paid on savings accounts, Nationwide called for the annual limit on deposits into a tax-free cash Isa to be raised from £5,760 to £11,250.
Within its mortgage lending, Nationwide said that it lent to 30,400 first-time buyers in the six-month period, adding that it now accounted for more than one in five of all first-time buyer mortgages.
The proportion of residential mortgages more than three months in arrears fell to 0.7%, the building society reported, down from 0.72% in the same period last year and "significantly below the industry average of 1.75%".
Nationwide has been concerned that the recent financial problems at the Co-op Bank have damaged the image of mutual lenders.
It said it disagreed with representations made recently to the Treasury Committee that had stated it would be difficult for a mutual to be a serious competitor in the retail banking market in the future.
"We are making tangible progress in growing our market shares and continue to demonstrate that we offer a real, consistent and viable alternative to the UK banks," the building society said.
"In short, we are a 'really serious competitor'."
Looking at the wider economy, Nationwide said it had seen "encouraging signs that the UK economic recovery is gathering pace" over the past six months, adding that the housing market "appears to have turned a corner".