Bid for Fannie and Freddie mortgage guarantee firms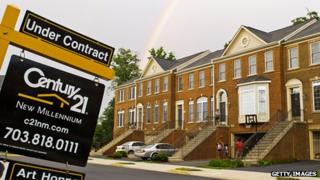 An investment firm has offered to buy a vital part of the US mortgage industry, currently owned by the US government.
Fairholme Capital Management has offered to buy the mortgage guarantee firms Fannie Mae and Freddie Mac in a $52bn deal.
Known as Fannie and Freddie, the companies buy mortgages from lenders, repackage them, guarantee them and sell them on.
US taxpayers had to rescue the firms in 2008 in a bailout worth $187bn.
Fannie Mae, founded in 1938 and Freddie Mac, founded in 1970, were set-up to help boost the availability of mortgages.
The US government would like to replace them with a scheme that would make the private sector responsible for backing loans.
The idea is to avoid making the taxpayer responsible if the mortgage industry gets into trouble again.
The businesses would still be regulated closely by the government, which would also ensure homeowners had access to popular 30-year fixed mortgages.
Fairholme says it has a group of investors with sufficient capital to takeover Fannie and Freddie.
The recovery of the housing market has helped make the firms profitable and they are close to paying off their taxpayer aid.