Barclays plans to cut 1,700 jobs across the UK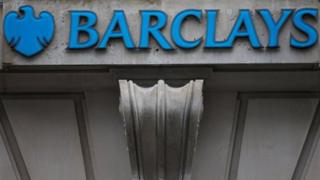 Barclays is to cut 1,700 jobs from across its branch network in the UK, the bank has announced.
The cuts come as it scales back the number of branches across the country.
Barclays said in a statement that the way people accessed banking services was changing rapidly, with more using smart phones and other technology.
The bank has launched a voluntary redundancy scheme and said staff would be "fully consulted" and "have access to the support... they require."
Barclays has 1,577 branches employing 33,600 staff.
The Unite union, which represents some bank staff, said customer service could suffer as result of the cuts and said Barclays was making a "colossal mistake" .
'Service'
The jobs going are equivalent to one staff member per branch, Barclays said, and will involve a host of frontline roles including cashiers, personal bankers, operational specialists, and branch and assistant managers.
They will be rolled out through 2014.
Unite's national officer, Dominic Hook, said: "These employees deliver high levels of service that customers of the bank benefit from.
"Such a massive reduction will be very detrimental to the bank and will also be hugely challenging for the staff remaining."
The union said it would have "urgent" discussions with Barclays in an attempt to put forward alternative proposals.
Unite said it had already successfully argued with Barclays for training grants for staff leaving Barclays, and compensation for those who volunteer to reduce working hours.
Last week it was announced that around 600 jobs would be lost as a result of the closure of centres at Coventry and Dartford.
Earlier this month Barclays said it would close four branches and move staff and banking services to nearby Asda stores.