Private sector rent arrears 'the lowest' since 2008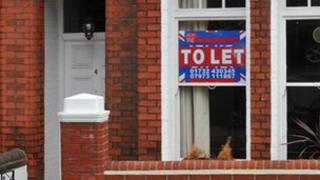 The number of people who are behind with their rent has fallen to its lowest level for five years, according to LSL Property Services.
LSL, which owns several chains of letting and estate agents, said the total amount of late rent fell by £49m between September and October.
The figures are for private sector tenants in England and Wales.
Significantly, they come at a time when rents across the country have risen to an all-time high, according to LSL.
In October, the proportion of rent that was late fell to 7.1%, down from 8.5% in September.
That is the healthiest month since the data was first recorded, in November 2008.
It counts any rental payment that is more than a single day late.
Affordability
At the same time, rents across England and Wales are 1.9% higher than a year ago, at an all-time record.
The average rent is now £758 a month.
London had the highest figure, at £1,156, while rents were lowest in the North East, at £522.
Although rents are rising in the south of the country, they are falling in seven out of 10 regions.
On Thursday, the Council of Mortgage Lenders (CML) reported that the number of house repossessions was also at its lowest for five years.
In addition, it said the number of mortgage-holders in arrears was continuing to fall.
Both sets of figures suggest people are finding it easier to afford housing payments, possibly as a result of falling unemployment.
The latest statistics from the Office of National Statistics (ONS) show that wages are rising by only 0.7% a year, well below the rate of inflation.
A survey by the Royal Institution of Chartered Surveyors (Rics) has suggested that fewer people are interested in renting, as more people consider buying their own properties.
The surveyors concluded that the number of people inquiring about renting was at its lowest for a decade.