Wal-Mart posts $3.7bn quarterly income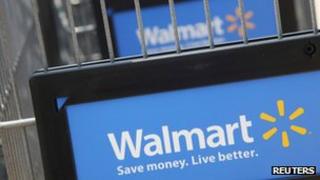 Retail giant Wal-Mart, which owns Asda in the UK, has reported net income of $3.7bn (£2.3bn) from July to September this year, up from $3.6bn for the same period in 2012.
The multinational retailer said it had been hit by a decline in US sales and the competitive retail environment.
Asda saw like-for-like sales up 0.3% for the third quarter.
It announced a £1bn plan to cut prices and a £250m investment to improve the quality of its products and stores.
Wal-Mart also said its sales had been hampered by currency fluctuations.
Wal-Mart's chief executive Mike Duke said: "Some customers feel uncertainty about the economy, government, jobs stability."
But he added that the chain had "aggressive plans to help our customers enjoy the holiday season".
Asda chief executive Andy Clarke said he was pleased with Asda's performance.
He said: "The market conditions are tough, competition is fierce and our customers' budgets are under intense pressure."
Mr Clarke said that although the economy was recovering, everyday finances were still tight and people had less time to shop.