Home repossessions at their lowest for five years, says CML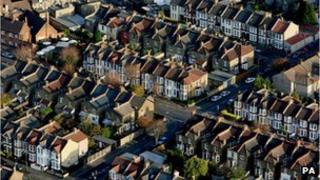 The number of homes being repossessed in the UK has fallen to its lowest level in five years, according to the Council of Mortgage Lenders (CML).
Just six in 10,000 homes were repossessed between July and September 2013.
That is the lowest quarterly figure since the CML began recording them in 2008.
The number of mortgage holders behind with their monthly payments also fell, but was still above pre-crisis levels.
The CML said 149,400 householders were in arrears at the end of September, down from 154,900 at the end of June.
That means there are currently 1.33% of borrowers who are behind with their mortgage payments.
The criteria include only people who owe at least 2.5% of their total mortgage balance.
"The continued reduction in payment difficulties is obviously very welcome," said Paul Smee, the CML's director general.
He said even those behind with payments were unlikely to face repossession.
"By talking to their lender as soon as possible, most can resolve their temporary problems, without the lender resorting to repossession," he said.
Rescue scheme
However, some lenders are concerned about the end of the government's Mortgage Rescue scheme, which operates in England.
It was designed to help those in difficulties with their mortgage and has helped about 5,000 householders.
Applications will close at the end of March next year.
Under the scheme, an independent housing organisation, called a Registered Social Landlord (RSL), granted home owners an interest-only loan to help them pay off their mortgage.
Or it could buy the home, in return for a reduced monthly rent.
"We will be sorry to see it go," said Paul Smee.
"The benefit to households was huge. And the scheme played a vital role in encouraging borrowers to talk to their lender," he said.