Blockbuster's administrator will close 72 stores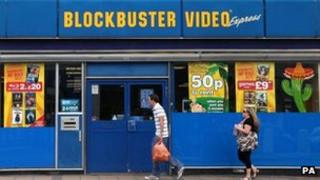 Troubled DVD rental chain Blockbuster will close 72 out of its 264 stores in the UK and cut 452 jobs after it went into administration for a second time in October.
Its administrators, Moorfields Corporate Recovery, said the move was not an "easy decision to make".
The news was likely to be "extremely upsetting" to staff, they said.
Moorfields said Blockbuster had faced a period of poor trading performance across rental and retail sales.
They added: "We must reiterate that, as part of our attempts to turn around the business, today's decision is necessary if parts of Blockbuster are to be saved and a buyer found."
Blockbuster is one of many High Street brands under pressure lately, particularly from online competitors.
Camera chain Jessops has gone into administration; music and DVD group HMV has closed 66 stores; and electrical chain Comet closed last year.