Taylor Wimpey home sales boosted by Help to Buy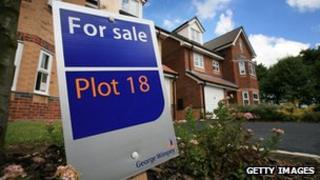 House builder Taylor Wimpey says it has sold all the homes it is building this year, partly as a result of the government's Help to Buy scheme.
All the houses due for completion in 2013 have been sold, along with 30% of those being built in 2014.
The company said Help to Buy was proving popular with its customers, with 2,400 homes already reserved under the scheme.
The recent start of the scheme in Scotland was also a positive factor.
"We are seeing our customers from Edinburgh to Exeter using the scheme to get onto or move up the housing ladder," said Peter Redfern, Taylor Wimpey's chief executive.
Help to Buy began in Scotland on 30 September, with a shared equity scheme similar to that which started in England in April 2013.
But there is a £400,000 price limit, compared with a £600,000 limit in England.
On track
A similar scheme has been announced in Wales, but is not yet in operation.
In September, the Welsh house builder Redrow criticised the lack of government-backed initiatives for selling houses in Wales.
Only 3% of its reservations were under the Help to Buy scheme.
Part two of Help to Buy, in which the government guarantees a proportion of mortgage repayments, covers the whole of the UK.
Taylor Wimpey said consumer confidence had continued to improve, underpinned by better access to mortgages.
It currently has 7,557 homes under construction, compared with 6,662 at the same time in 2012.
As a result of the better trading environment, the company said it was confident of improving its operating margins by 2-3% next year.
It said it was still on track to meet profit expectations. Analysts expect it to report profits of £230m when it publishes its full-year results in February 2014.