UK retail sales fall 0.7% in October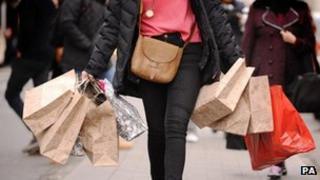 UK retail sales volumes fell 0.7% in October, with mild weather affecting sales of winter clothing, the Office for National Statistics (ONS) has said.
However, sales volumes are still up 1.8% from a year earlier, indicating increased consumer confidence.
The month-on-month fall was unexpected - many economists had forecast sales to stay unchanged. The retail sector represents about 5% of the UK economy.
Clothing sales were down 2.8% compared with September.
The ONS figures are based on a survey of 5,000 retailers.
It found that the amount spent in shops also fell 0.7% between September and October. Last month, UK consumers spent a total of £6.9bn a week.
Just a blip?
"Clothing sales have been dampened by a milder October than we've seen in previous years," said Kate Davies from the ONS, "There have also been falls in food and petrol.
"But the wider economic picture is much more positive - this follows eight or nine months of growth in the retail sector.
"In the summer, sales were very much boosted by warm weather - particularly in July and August."
The ONS figures also found that online sales accounted for 10.5% of all retailing in October.
Retailers suggested online promotions had helped to boost sales through their websites.
Analysts said the general trend in the UK retail sector was still one of growth, despite the fall in sales last month.
"The trend is still positive and the coming Christmas trading period will be important in gauging whether consumers are feeling more confident to spend," said David Tinsley, UK economist at BNP Paribas.
"More interest in coming months will be whether the better economic tone... leads UK consumers to spend more in the pre-Christmas trading period. If that is the case then today's fall will just be a blip."
But economists are also concerned about the impact of inflation and the relatively slow growth in earnings.
Recent official figures show that inflation fell to 2.2% last month - just above the Bank of England's target of 2%.
But average earnings have increased by just 0.7 in the year to September.
"Even allowing for mild weather hitting clothing sales, the 0.7% drop indicates that consumers are taking at least a temporary breather in their expenditure after a robust rate during the third quarter," said Howard Archer from IHS Global Insight.
"This fuels our suspicion that GDP growth may actually edge back to 0.7% in the fourth quarter."