Yellen says Fed has 'more work to do' to aid recovery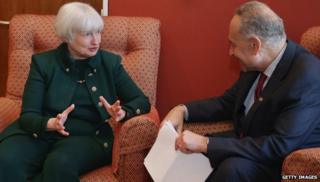 Janet Yellen said the US economy is still performing "far short" of its potential.
Ms Yellen, President Obama's choice to lead the Federal Reserve, said the central bank would not stop its stimulus efforts until the labour market improves and inflation rises.
The comments came in a statement prepared for her confirmation hearing before the Senate Banking Committee.
Thursday's hearing is a chance for Senators to question Ms Yellen.
She is likely to face tough questions from Republicans, but most analysts predict she will be confirmed nonetheless.
In her prepared testimony, Ms Yellen said: "I believe that supporting the recovery today is the surest path to returning to a more normal approach to monetary policy."
This is likely to please investors, as it indicates Ms Yellen will continue outgoing Chairman Ben Bernanke's efforts to prop up the US economy.
Currently the Federal Reserve has a bond buying programme worth $85bn a month, which is designed to keep interest rates extremely low.
'Significant progress'
Ms Yellen added: "Our country has come a long way since the dark days of the financial crisis, but we have farther to go. Likewise, I believe the Federal Reserve has made significant progress toward its goals but has more work to do."
Many observers have noted that, if confirmed, Ms Yellen will be confronted with something that no other Fed chair has ever had to deal with: how to wind down the Fed's stimulus efforts as the US economy gains steam.
The Senate Banking Committee, which consists of 12 Democrat and 10 Republican Senators, will vote on a later date on whether to advance Ms Yellen's nomination to the full Senate, where she'll need 60 votes to win confirmation.