US oil output beats imports for first time in 18 years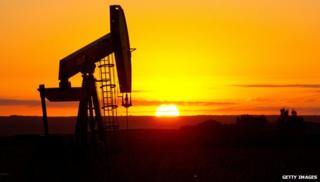 US domestic crude oil production has exceeded oil imports for the first time since 1995, according to the Energy Information Administration (EIA).
The EIA said petroleum imports were at their lowest since 1991, partially due to surging domestic oil production from hydraulic fracturing, or fracking.
In October, US crude oil output averaged at 7.7 million barrels per day (bpd).
The EIA says it expects output to exceed 8.8 million bpd by 2014.
The domestic oil boom has been due mostly to fracking, a new technique used to get oil from shale deposits in locations like North Dakota and Texas.
The technology has come under fire by critics concerned about the environmental impacts of the procedure.
The EIA says imports now make up 40% of US oil consumption - significantly less than the 60% peak reached in 2005.
The organisation forecasts imports will make up only 28% of US oil consumption in 2014, which would be the lowest level since 1985.
In a statement, the White House welcomed the news, saying it is an example of how the administration's energy policies are working.
This is "a result of both increased production and administration policies like increased fuel economy standards that cut oil consumption, cut carbon pollution, and cut consumer bills," a White House statement said.