Germany under review over economic role in EU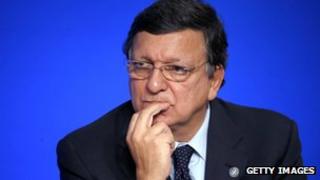 A review by the European Commission is looking into whether Germany's international trade surplus is hampering Europe's economic recovery.
Commission President Jose Manuel Barroso said it wanted to see if Germany "could do more" to help rebalance the European economy.
The Commission is also scrutinising 15 other European countries for not meeting EU economic targets.
France, Italy and Hungary were also told to take "decisive policy action".
An investigation led by the Commission will use new powers to look into the economic programmes of the 16 countries. It will run until May 2014.
Analysts have accused Germany, which has the EU's biggest economy, of relying too much on exports and not doing enough to boost domestic demand.
Mr Barroso said: "This is not about the EU running economies in place of national governments."
But he said the move was to ensure that "what is good for individual states is also good for the EU" and called for "bolder" cross-border policy-making for the economy.
Olli Rehn, EU economic and monetary commissioner, said: "Let's be clear on this, we are not criticising Germany's... success in global markets."
He said data indicated Germans were "constantly investing a large part of their savings abroad", which he said could be "deficient even from a German perspective".