E.On 'increasingly likely' to raise prices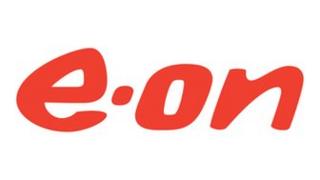 Energy firm E.On has said it is "increasingly likely" that it will have to put up its prices.
E.On is the only one of the big six energy companies in the UK that has not yet announced an increase in its tariffs.
It came as the company announced a 17% increase in its profits for the first nine months in its UK supply business.
Earlier, rival firm SSE announced a fall in its underlying profits for the six months to 30 September.
Although E.On said its profits had increased from £194m to £227m over the period, it said it had been losing money for the last three months.
It blamed the cost of distribution, as well as government green energy schemes, for a loss of £37m.
"We are being put in a position where it is increasingly likely that we will need to pass on some of these increases in cost to our customers," said E.On's UK chief executive, Tony Cocker.
At the same time, one of the smaller companies, Co-operative Energy, announced a price cut in the expectation of a change to the green levies.
It said the 4.5% price increase, announced in October, would now go down to 2.5%.
Also on Wednesday, SSE became the latest of the big energy companies to say it will adjust its prices downwards if the government cuts green levies.
SSE's Alan Young told BBC Radio 5 live that if the levies were cut, "we will adjust our bills accordingly - no ifs, no buts".
Both Npower and EDF made similar comments on Tuesday.
E.On has already promised to cut its bills "pound for pound, penny for penny" if levies are reduced.
SSE is due to increase its average energy tariffs by 8.2% from 15 November.
Dividend rise
SSE's comments came as the firm reported pre-tax profits of £336.4m for the six months to 30 September. Stripping out one-off items, SSE's underlying profits fell to £354m from £400.8m in the same period a year ago.
The company said that its retail business recorded an £89.4m operating loss, and within this its energy supply division made a loss of £115.4m, compared with a profit of £48.3m a year earlier.
SSE said this reflected "the impact of higher wholesale gas, distribution, environmental and social costs".
However, the company is increasing its dividend by 3.2% to 26 pence a share.
The rise was criticised by consumer groups.
Mr Young told the BBC: "Profit that we make has a purpose. In the last five years we have invested £2.5bn more in the energy networks and in the power generation in this country than we've made in profit after tax."
A million 'in debt'
In the past few weeks, five of the "big six" energy companies have announced price rises, blaming the government's social and environmental policies for some of the increases.
However, the green levies account for just 8% of the average energy bill, so there is limited capacity to reduce the increases already announced.
Nevertheless, Npower said on Tuesday that if the cuts went through as anticipated, it would reduce its planned price increase from 10.4% to 6%.
Smaller energy companies are already protected from many of the green levies.
Those with fewer than 250,000 customer accounts do not pay the Energy Companies Obligation (ECO) or the Warm Home Discount.
As a result, smaller companies may have less scope to cut bills, should levies be changed.
The government will make an announcement in the Autumn Statement on 5 December.
In the meantime, the regulator, Ofgem, has announced that more than a million British households are in energy debt.
It said that 1.4 million households owed money on their electricity bills, while 1.2 million were behind with their gas bills.
The figures refer to the end of 2012.
The average amount owed is £436. The figures are not comparable with previous years, as the calculation methods have changed.