UKFI boss says it limited cuts to RBS bankers' bonuses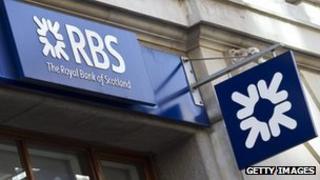 UK Financial Investments, the Treasury unit that manages the government's stakes in RBS and Lloyds, says it softened government plans for sharp cuts in bonuses at both banks.
Robin Budenberg, chairman of UKFI, told MPs that Chancellor George Osborne had proposed reductions that exceeded what was "commercially acceptable".
As a result, UKFI had limited the extent of the cuts, he said.
Mr Budenberg was speaking during a Treasury Select Committee meeting.
The government owns 81% of Royal Bank of Scotland and almost 33% of Lloyds.
UKFI was set up after RBS and Lloyds were bailed out with £66bn ($101bn) of taxpayers' money during the 2008 financial crisis.
The committee meeting asked if UKFI was at "arm's length" from the government and made its decisions on commercial grounds.
Mr Budenberg said: "I believe we make sure that banks are able to run in the best interests of their shareholders."
He also told lawmakers that issues concerning sufficient capital and strategic focus needed to be resolved before RBS could be privatised.
Mr Budenberg said the privatisation could be accelerated as a result of restructuring measures, but that it was too early to say when RBS shares could be sold.