Eike Batista-owned OSX files for bankruptcy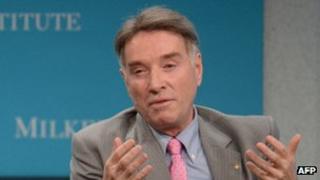 A second company controlled by the Brazilian former billionaire Eike Batista has filed for bankruptcy protection.
Shipbuilding firm OSX Brasil made the filing in a Rio de Janeiro court less than two weeks after its sister oil company, OGX, also declared bankruptcy.
Mr Batista is one of Brazil's best known businessmen, and once boasted a fortune estimated at $30bn (£18.8bn).
But investors have recently lost confidence in his vast business empire.
The group of businesses, collectively known as EBX, cover energy, mining and logistics.
Shipbuilder OSX is estimated to have debts of about $2.3bn.
Last month its sister company OGX sought protection from creditors with debts of $4.8bn - the largest bankruptcy filing in Latin America.
Under Brazilian law, OSX will now have 60 days to come up with a debt restructuring plan.
But even if a plan is agreed, the bankruptcies mark a remarkable downfall for Mr Batista, who was once ranked as the seventh richest man in the world.
His problems began last year, when OGX announced that its oil production would be a quarter of its initial forecast, resulting a huge decline in its share price.
Analysts say the company secured large loans, promising payment through oil that it had not yet begun pumping.