Barratts and Blockbuster fall into administration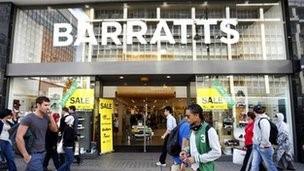 High Street shoe chain Barratts and DVD rental chain Blockbuster have both gone into administration, putting more than 3,000 UK and Irish jobs at risk.
Duff & Phelps has been appointed as administrator to Barratts.
It said it was reviewing the shoe chain's financial position, as well as seeking a sale of the business.
Restructuring firm Moorfields Corporate Recovery has been appointed administrator of TS Operations, which trades as Blockbuster.
It is the third time in four years that Barratts has gone into administration.
Philip Duffy, Duff & Phelps partner, blamed "difficult trading conditions" for its most recent failure.
He said an investor had recently offered to inject £5m into the shoe chain, but withdrew this offer on 7 November.
"In view of the financial position of the company and withdrawal of that equity offer the directors were left with no choice but to appoint administrators," said Mr Duffy.
Barratts has 75 stores and 23 concessions across the UK and Ireland employing 1,035 people in total.
Neil Saunders, managing director at retail consultancy Conlumino, said he expected Barratts to survive "in one form or another".
"I would be surprised if it disappeared from the High Street altogether. It has a sizeable estate. I expect it to emerge as a much smaller business with fewer stores," he added.
At Blockbuster, there were also suggestions that the DVD and computer game rental chain could survive.
Moorfields said there were parties that were interested in parts of the business.
"Our focus will be to secure a future for as much of the business as possible as well as trying to save jobs before Christmas," said Simon Thomas, joint administrator at Moorfields.
Mr Thomas said Blockbuster, which employs 2,000 people across 264 stores, would continue to trade in the meantime.
Last month, private equity firm Gordon Brothers Europe, which bought Blockbuster for an undisclosed sum in March, said it was filing a notice of intention to appoint an administrator to the retailer.
Related Internet Links
The BBC is not responsible for the content of external sites.