BSkyB shares hit by BT football rights deal win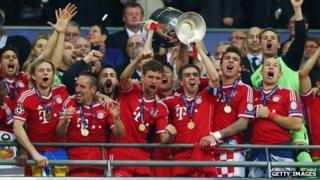 Shares in BSkyB have plunged 10.9% after it lost the rights to broadcast live Champions League and Europa League football matches to rival BT Sport.
Shares in ITV, which currently splits the rights with Sky, also fell, closing 1.6% lower. BT's shares rose 0.5%.
BT Sport has won the rights to show all 350 fixtures each season from 2015 after talks with European governing body Uefa.
It paid £897m for the exclusive three-year deal.
BT said the deal would make European football "far more accessible and affordable for fans".
It said it would show a selection of the games for free on BT Sport even to homes that have not signed up to the channels.
The new contract, priced at £299m a season, is worth more than double the current arrangement.
Both ITV and BSkyB suggested that BT had overpaid for the rights.
"We were not prepared to pay over the odds in the latest live rights round," ITV said in a statement.
Sky said that it bid "with a clear view of what the rights are worth to us".
"It seems BT chose to pay far in excess of our valuation. If we thought it was worth more, we'd have paid more," it added.
When asked on Saturday if it had overpaid for the rights, BT Consumer chief executive John Petter said: "Of course I don't feel that.
"These were the crown jewels properties for Sky. I'm sure they'll be kicking themselves today. I feel for them obviously, but they got it wrong."
BT said its financial outlook was unchanged despite the extra payments. And BT, which only launched its UK sports channels on 1 August, said the rights would improve revenue and profit in its consumer division in the "medium term".
Investec media analyst Steve Liechti said the deal was a "hugely important showcase for BT's long term intent and the competitive threat to Sky".