Apple iPhone maker Pegatron's profits below forecast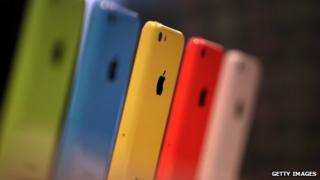 Pegatron Corporation, the Taiwanese company that assembles Apple's iPhone 5C, has reported lower-than-expected profits.
Analysts have said that Pegatron is experiencing slower orders for the 5C, which is Apple's cheaper smartphone.
Net profits were T$2.48bn ($84m; £53m) for its third quarter, slightly below analyst forecasts, but higher than the T$1.35bn it made last year.
Pegatron also makes laptops for Lenovo and former parent Asustek Computer.
The company's share price hit an all-time high in May on reports that it was winning orders away from rival Hon Hai Precision Industry, another established Apple supplier.
But in a recent research note Nomura said it was downgrading the stock from "buy" to "neutral" blaming "deteriorating orders for 5C and risks of new EMS [Electronics Manufacturing Services] makers taking market share".
The bank added that it saw "a lack of positive catalysts in the near term".
And last week the Wall Street Journal reported that Apple was considering adding another Taiwan-based manufacturer, Wistron, to its roster of iPhone 5C makers, potentially increasing competition for Pegatron and reducing profit margins.
In October, Apple reported falling fourth quarter profits of $7.5bn (£4.6bn), despite iPhone sales rising 26% to 33.8 million.
These were the first earnings to include sales of Apple's new iPhone models: the iPhone 5s and the cheaper iPhone 5C, which is designed to appeal to the Chinese market.
However Apple does not break out sales figures for the iPhone 5C.
Over the summer Pegatron was criticised by human rights group China Labor Watch, which accused the company of workplace violations in three of its factories.
The group said it found evidence of "at least 86 labour rights violations, including 36 legal violations and 50 ethical violations" following an undercover investigation.
Apple is known to be diversifying its list of suppliers and looking increasingly to Chinese manufacturers.