RSA shares fall 11% after troubles with Irish division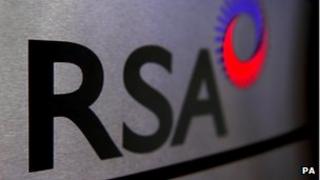 Shares in RSA Insurance Group have plunged after the company suspended Philip Smith, chief executive of RSA Ireland, and two other senior executives.
RSA said they were suspended due to "issues in the Irish claims and finance functions".
Group chief executive, Simon Lee, said the problems could reduce operating results by £70m in 2013.
Shares in RSA, which owns the More Than brand, closed 11% lower.
The problems were discovered after a routine audit, but RSA did not give details about what happened.
"We are extremely disappointed with the issues which have been identified and their financial impact on the Group," he said in a statement.
But he maintained that the problems were "isolated to the Irish business" and that "no policyholders have been affected."
Eamonn Flanagan, analyst at Shore Capital Stockbrokers, said that while the accounting irregularities would be "extremely damaging for the group's reputation and credibility in Ireland", they would be "unlikely to topple the group."
RSA has appointed accountancy firm PwC to investigate the financial and regulatory reporting processes and controls within the Irish business.
This latest financial hit comes on top of last week's announcement that the company would have to increase reserves to cope with the increase in bodily injury claims.
RSA is also facing a greater than expected number of claims following bad weather across the globe.
It expects 2013's return on equity to be below 10% as a result.
The St Jude storm, which ripped through the UK on 28 and 29 October, is likely to have cost insurers at least £130m in damage claims, the Association of British Insurers said last month.
Four people died when the storm battered southern Britain.