HMRC targets unpaid intern employers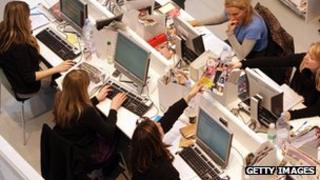 HM Revenue and Customs (HMRC) is targeting 200 employers who recently advertised internships to ensure they are paying the minimum wage.
The agency, which is responsible for enforcing the national minimum wage, is sending out letters to the companies, and will carry out "targeted checks".
The move comes as the government outlines new guidance to young interns to ensure they are properly paid.
There is concern some employers are using unpaid interns as cheap labour.
Currently the national minimum wage is set at £3.72 an hour for under-18s, rising to £6.31 for those aged 21 and over.
The Trades Union Congress has previously estimated that up to 250,000 workers are not being paid the minimum wage.
The Unite union suggests that more than a third of the top 50 charities in the UK hire unpaid interns.
Last year HMRC identified a total of 736 employers who paid staff less than they were entitled to or nothing at all.
"Not paying the national minimum wage is illegal and if an employer breaks the law, government will take tough action," employment relations minister Jo Swinson said.
"Anyone considered a worker under the law should be paid at least the minimum wage, whether they are an intern, or someone on work experience."
The government is launching a poster campaign and a video offering guidance to young would-be interns.