Pinkberry co-founder guilty of beating a homeless man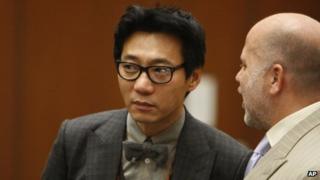 Young Lee, co-founder of frozen yogurt chain Pinkberry, was found guilty by a California judge of beating a homeless man in Los Angeles in June of 2011.
According to documents, Mr Lee became angry after the man, Donald Bolding, flashed a graphic tattoo at the people in Mr Lee's car, including his fiancée.
He later returned with an accomplice and beat Mr Bolding with a tyre iron.
Mr Lee, 49, co-founded Pinkberry in 2005 but left the company in 2010.
He was arrested in January 2013 at Los Angeles International Airport on "outstanding charges."
Prosecutors said Mr Bolding was struck twice in the head and suffered a broken arm, before passerby stepped in to stop the attack.
Mr Lee faces up to seven years in California state prison.
A sentencing hearing is scheduled for 14 January.