UK goods trade deficit widens in September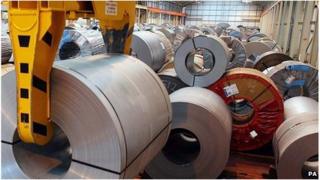 The gap between imports and exports of goods was at its widest for almost a year in September, according to the Office for National Statistics (ONS).
The ONS said the goods trade deficit widened to £9.816bn, compared with £9.557bn in August.
Including services, in which the UK traditionally has a surplus, the overall trade deficit also widened slightly to £3.268bn.
Separate ONS data brought disappointing news from the construction sector.
The ONS said the UK's construction sector grew by 1.7% in the third quarter of 2013, but this was slower than the initial estimate of 2.5%.
'Imbalance continues'
The trade data showed that export volumes in the three months to the end of September fell by 4.6%, while imports rose by 1.3%.
The latest figures suggest trade held back economic growth in the third quarter of this year, when the economy grew by 0.8%, according to the first estimate from the ONS.
Martin Beck, UK economist at Capital Economics, said: "September's UK trade figures show that an imbalance between domestic and overseas demand continues to characterise the UK economy... The trade picture over a longer time-frame remains disappointing."
David Kern, chief economist at the British Chambers of Commerce, said: "The UK is not doing enough to plug the export gap and rebalance our economy towards net exports."
The ONS said the downward revision to the construction data would have "no effect" on the preliminary estimate of third quarter growth. The construction sector accounts for about 6.3% of the UK's economy.
The ONS figures showed that activity in homebuilding had increased by 13.6% during the 12 months to September, while construction overall had increased by 5.8%.
Jeremy Cook, chief economist at World First, said: "We can expect that the ongoing demand for housing will continue to increase construction output... and I would hope that civil engineering prospects, as well as those of a commercial nature, can mirror the gains seen in homebuilding."