Regulator blocks water bill rise bid by Thames Water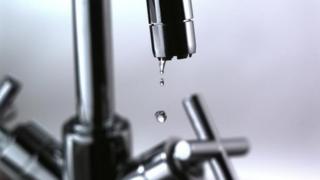 Ofwat, the water regulator, has confirmed that it has turned down Thames Water's request to increase customer bills by up to 8% next year.
Thames had asked to add an extra £29, or 8%, to the annual average household bill for 2014-15.
But the regulator has ruled that it must stick to a 1.4%-above-inflation maximum rise, set in the latest price review.
The company said it was reviewing the decision carefully.
It has the option to appeal against the decision to the Competition Commission.
Challenge
Thames said it had faced extra costs of £291m, because various items had cost more than the amount estimated when the price regime was set.
These included bad debts, the transfer of private sewers, land purchases and higher Environment Agency charges that could not be fully estimated at the time.
Ofwat and Thames disagree about how much these items will cost the company.
The regulator said in October that it was minded to turned down the requested extra price rise. It has now confirmed that decision.
"We said we would challenge Thames' application, in the interests of customers. We did just that and on the evidence provided, we are not convinced that an extra bill increase is justified," said Ofwat's chief regulation officer, Sonia Brown.
The current annual average household bill from Thames Water is £354.
Responding to Ofwat's decision, the company said: "We will review the decision carefully before deciding on our next steps."
Thames is the UK's largest water company, with 14 million customers.
Price plans
A week ago, Ofwat's chairman, Jonson Cox, wrote to the water companies asking them whether they needed to increase their bills for the full agreed amount next year, given the squeeze on household finances.
In December, all water companies will submit their plans for the next price review, which will eventually determine how much they can charge from 2015 to 2020.
Environment Secretary Owen Paterson has written to companies calling on them to recognise people's financial strain and "look closely" at whether price rises were justified.
Labour leader Ed Miliband has called for extra help for people struggling to pay their water bills. New social tariffs for the low-paid, which were introduced on a voluntary basis last year, should be made compulsory, he said.