China trade data adds to recovery hopes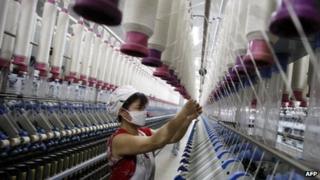 China's exports and imports rose in October, the latest in a series of figures indicating a recovery.
Exports, a key driver of its growth, rose 5.6% from a year earlier, while imports jumped 7.6%.
This follows data released this month which showed that manufacturing activity in China grew at its fastest pace in 18 months in October.
The numbers come ahead of key meetings of China's Communist Party, with economic reforms set to be discussed.
Known as the Third Plenary Session of the Central Committee, the meeting will run from 9 to 12 November, and top leaders are expected to discuss reforming key areas such as the financial sector and state-owned enterprises.
'Holding up'
China's economy, the world's second biggest, has shown signs of a pick-up after seeing its growth rate slow in first half of the year.
Its economy grew 7.8% in the July-to-September quarter from a year earlier, up from the 7.5% expansion recorded in the previous three months.
Some analysts said the pick-up had been helped by a recovery in demand from key export markets such as the US.
"Combined with the better export data in Korea and Taiwan, China's export numbers suggest some - although not yet decisive - improvement in global demand momentum," said Louis Kuijs, an economist with Royal Bank of Scotland.
Over the past few months Beijing has also announced stimulus measures aimed at helping exporters and boosting domestic demand.
These include tax breaks for small businesses, reduced fees for exporters and the opening up of railway construction.
Analysts said that domestic consumption in China was likely to pick up in coming months and help boost its overall growth.
"Domestic demand is still holding up, which can be seen from the import growth, and the recent Purchasing Managers' Index (PMI) figure also indicated that the domestic demand will continue to gain more steam in the coming quarters," said Sun Junwei, an economist with HSBC Global Research in Shanghai.
Earlier this month, China also reported that its services sector, which accounts for almost 43% of its overall economy, grew at its fastest pace in a year in October,
The positive data follows a rise in industrial output, retail sales and fixed asset investment in September.